Ionic-Chi Foot Detox
The Ionic Chi Foot Bath is a process to help draw out toxins and make the body's pH more alkaline.  This process pulls toxins from the body through the feet. This safe and relaxing experience is appropriate for everyone looking to improve their wellness and feel better quickly.
Our clients experience reduced pain, improved sleep, higher energy levels, and relief from allergies.  Some even reported mental clarity and enhanced mental relaxation.
Other benefits include:
Detoxification
Increase energy levels
Boost metabolism
Aids in weight loss and inch loss
Reduce water retention
Improve blood circulation
Boost immune system
Improve digestion
Reduces pain
Improves mental concentration
Clear skin problems
Slow the aging process
What to Expect
First, the client will submerge their feet into a basin filled with warm salt water made up of several different toxin-drawing ingredients.  The water is then electrically charged to stir up positive ions and then negative ones.  Once this happens, clear water in the bath starts to show colors as the body removes toxins:
Black = Liver
Black Flecks = Heavy Metal
Brown = Liver, Cellular debris, Tobacco
Green = Gallbladder
Orange = Joints
White = Lymphatic System
To experience a profound detox for yourself, call us to schedule an ionic chi foot detox. We look forward to helping you feel your best!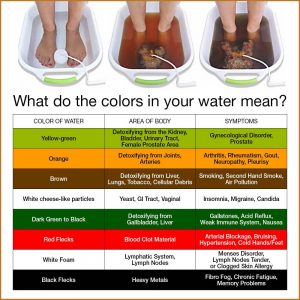 Pricing for Ionic Chi Foot Detox
Non- Member Pricing
1 Session   – $ 30
3 Sessions – $ 80
6 Sessions – $150
Member Pricing
1 Session – $27
3 Sessions – $72
6 Sessions – $135
Packages:
3 Detox/3 Sauna – $150
6 Detox/6 Sauna – $275
(Members receive 10% off)
All sessions are by appointment only.
Are you interested in joining Body by Roni? We offer affordable options for open gym memberships and  personal training sessions.